Back to Blogs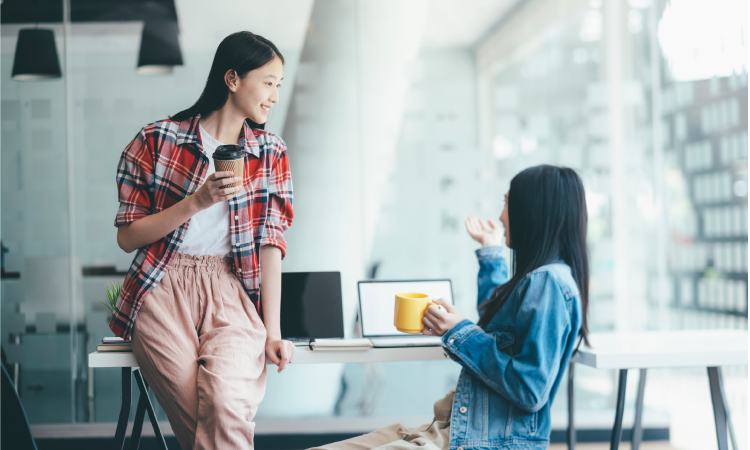 ​The COVID-19 pandemic has triggered companies to evaluate their current in-office work setup and transition to more flexible structures, such as work-from-home (WFH) and hybrid work. While some businesses now have a fully remote workforce, others ask employees to work partly remotely and come into the office at least once or twice a week.
According to Accenture, 63% of high-growth companies use a hybrid work arrangement to boost efficiency and productivity. Other studies report that although 44% of global companies don't welcome work-from-home (WFH), 16% operate entirely remotely.
These recent workplace trends suggest the need of assessing your existing work model and analysing which structure can get your employees to show up motivated. To help you get started, we covered the three most common work environments and provided some tips on choosing the right one for your business.
​
What Are the Different Types of Work Models?
1. In-office or Onsite
Long before the coronavirus outbreak, your company and many other employers across the world mandated in-person work.
Employees reported for work every day to fulfil their responsibilities and engage in business activities like meetings.
If you plan on sticking to the traditional workplace, keeping your staff happy and productive can be less stressful. However, opting for the in-office work model may expose your business and people to many risks, especially with COVID-19 still around.

Pros

Cons

1. Centralised Infrastructure & Support System

The best part about in-office environments is that your employees can get the most out of your
facilities and systems.

Your staff have their designated desks that facilitate social interaction and meet certain
standards. They have access to a fast and stable Internet connection, additional monitors,
printers, equipment, and other resources.

Additionally, any in-house IT support can address hardware and software problems easily and
quickly compared to online.

​

1. High Operating Costs

One of the most obvious downsides of an in-office work environment is high operating costs. You must provide a furnished and comfortable workspace to your employees, cover electricity and Internet bills, and other office expenses.


2

. Foster a Strong Company Culture

As clichéd as it may seem:'teamwork makes the dream work'. Teamwork inspires stronger bonds
and builds a healthy, productive working atmosphere.

When your employees interact face-to-face, they can work on projects more efficiently. They
develop a better understanding of their roles, helping build a solid company culture.


2. Lack of Work Flexibility

Your employees will chase deadlines no matter where they work from. They may need to work
overtime to meet their deadlines. To hit their target date, they may bring unfinished work home.

This can lead to disproportionate work-life balance as well as security issues.


3. Direct Control & Effective Management

Being physically in the same place allows for direct control and effective management. Your team
leads or managers can monitor the progress of the individual tasks and the whole project with daily check-ins or weekly meetings...

Since everyone communicates face-to-face, driving innovation is easier. The quick exchange of information and impromptu discussion can lead to surprising ideas and facilitate real-time
decision-making.

3. Health and Safety Risks

With the ongoing COVID-19 scare, embracing the in-office work model may likely expose your employees to the virus. Imagine the daily commute to the office and the number of people (whose destinations are unknown) your employees engage with every day. Things like this may increase the risks of spreading and contracting coronavirus.

Even in the post-pandemic world, working in the office still comes with workplace hazards and health risks. Open spaces may facilitate the spread of diseases, and employees may deal with biological, physical, safety, and psychosocial hazards.
​
2. Remote or Work from Home (WFH)
Work-from-home (WFH) or remote work is a working style that allows professionals to perform their duties outside the traditional office environment. While some companies have already implemented the WFH setup pre-pandemic, several businesses transitioned to remote work when COVID-19 hit.
Here are a few WFH statistics that prove this work arrangement is currently in demand:
Remote work is more common in cities with high-income levels. - Pragli

67% of U.S. employers allow their employees to work remotely, while 36% of them encourage their employees to work from home. - Seyfarth
Like the in-office work model, WFH also has a fair share of highs and lows. Here are some things your business will experience if you adopt the remote work model:
​
Pros

Cons

1. Low Utility Costs

Building a remote team entails fewer costs than hiring office-based employees. The offsite setup
saves you from high operational expenses, including electricity bills, Internet packages, team
budget, and office equipment. Plus, you won't need to acquire janitorial service to keep the
workplace clean.

1. Risk of Error

Working offsite can lead to an increase in human error. WFH employees are more likely to make mistakes at work because of various reasons, such as digital distractions, household chores, family matters, and television.

Erroneous output could sabotage productivity and efficiency. For instance, tasks that require heavy revisions could make your project go over budget, potentially impacting your company reputation.


2. Comfort & Safety

The pandemic may have subsided, but it's not over. Currently, there are around 424 million
COVID-19 cases worldwide–and this number may continue to increase.

When you switch to remote work permanently, you help reduce COVID-19-induced stress and
manage the risks of coronavirus. By allowing your employees to work remotely, you also
create happy, motivated, and productive workers.

2. Slower Operations

Slowed operations is a common disadvantage of the work from home setup. Your employees may not deliver high-quality outputs on time, and you may experience challenges in maintaining s internal due to the following:

poor Internet bandwidth

underperforming home office equipment

inability to access valuable resources on time


3. Flexibility

Another good thing about remote work is that it offers flexibility. The WFH setup offers the same
level of flexibility from the management to your employees.

Your teams can work anywhere and have the option to work on a flexible schedule – not strictly
9am to 5 pm. This flexible work arrangement provides a better work-life balance. It also benefits
your business long-term by strengthening loyalty, attracting talent, and improving retention.

3. Lack of Community

Aristotle said, "Man is by nature a social animal; an individual who is unsocial naturally and not accidentally is either beneath our notice or more than human. Society is something that precedes the individual."

Spending time only on a computer can cause burnout. Imagine sitting alone on the WFH office desk with only a TV in the background and no team members to talk to. Isn't that boring? While it's possible to conduct video team calls, no virtual call will beat the feeling of seeing and talking with someone face-to-face.
​
3. Hybrid Work
Hybrid work combines in-office working and remote setups. This model is the best option if you want your employees to spend more time working in their homes but also benefit from in-person appearances at the office.
Many employers favour hybrid working arrangements as they offer the best of both worlds. Let's take a closer look at the good and bad sides of having a hybrid workforce:

Pros

Cons

1. Lower Expenses

Compared to full-time onsite work, the hybrid model provides you with opportunities to reduce operational costs. With fewer employees in the office, you can cut down on office supplies and overhead costs and or even consider moving to a smaller space, minimising expenses.


1. Requires More Control

One major setback of a hybrid workplace is it requires more management control. It's tricky for the managers to monitor employees with varied work setups. It also makes it harder to resolve conflicts.

2. Adaptable Workforce

If the WFH work model supports flexibility, hybrid working takes the flexibility up a notch. You can
ask your employees to come into the office when necessary, while others remain at home.

According to Future Forum's Remote Employee Experience Index, flexibility is a key driver that
makes hybrid work a desirable model. Being able to work on a flexible schedule and work in a
physical office influences overall employee experience.


2. Divided, Isolated Workforce

In a hybrid workplace, your employees may struggle to maintain relationships with colleagues. Remote workers may feel left out because they miss out on side-of-desk conversations, team lunches and hangouts that their in-office colleagues experience.

3. Improve Employee Experience

The hybrid environment can improve employee experience and work satisfaction. For instance,
letting your workers visit the office to use the company's facilities or resources helps them do
their jobs better.

3. Weakened Company Culture

Hybrid working may also dilute your company culture. Since team unity is lacking, team members may lose touch with the ethics and values that underpin a brand.
​
Factors to Consider When Choosing a Work Model
Business Growth Stage

The business lifecycle is divided into five stages: development, start-up, growth, expansion, and maturity. Assess which stage your business is at, then select a working setup your company can sustain.
Suppose you're a newly-formed start-up and you lack the economic resources. Setting up a physical office is costly, so implementing remote work is ideal.


Company Team Size

How big is your team? Do you have around 50 to 100 employees or employ less than 20 people? Questions like these will help guide you in choosing the best work model for your business.


Transition Tools

Having the right tools is critical when transitioning to remote work or hybrid work. Your company must have the technology to manage geographically dispersed teams effectively.

Wrapping Up!
The in-office, work from home, and hybrid work models have their own advantages and disadvantages. As you figure out a new normal, make sure to understand your company's current situation and boundaries.
If you plan on hiring more team members to work full-time in the office, remotely, or hybrid-flexible, CGP is the company to call. We offer different hiring solutions that can help you find the best talent for your business. Our services include talent search, executive search, contracting, and recruitment process outsourcing (RPO).
​