Back to Blogs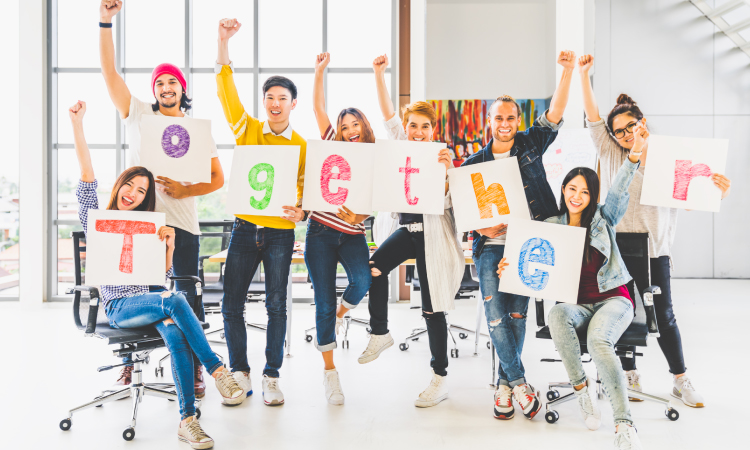 ​The COVID-19 pandemic made many employees embrace work-from-home (WFH) and hybrid work environments. Workers had to miss casual team chats, lunches out, coffee breaks and all things that made office life fun.
While employees can come into the office a few times a week, hybrid working still hits differently. The empty workspaces and deafening silence can make anyone feel lonely and isolated.
With the emotional challenges flexible work brings, human resource (HR) leaders must find ways to navigate the new normal. By managing the shift, we mean beyond keeping the communication lines open.
Here are a few ways HR teams can tackle the hidden toll of remote and hybrid work:
​
1. Promote Transparency in the Workplace
Loneliness can cripple teams, slow down routines, and impact employee productivity. Many things can trigger negativity in the workplace—and lack of transparency is one.
Transparency helps set the stage for employee engagement. Employees like it when they're involved in business activities and given the chance to share knowledge.
The role of HR is to make transparency and engagement meet. Thankfully, maintaining a transparent workplace doesn't cost much. Plus, companies can achieve it in different ways, including:

Provide shared access to documents and resources. Make information available across the business to drop hierarchies and bureaucracy. It also allows employees to make decisions on their own.

Create a culture of open communication. Keep everyone in the loop, recognise employees' contributions, and encourage two-way communication.

Run company town hall meetings. Hold a monthly town hall meeting to share routine business updates. Companies can also use town halls to welcome new employees and let everyone share their experiences or ideas.
2. Create a Culture of Recognition
Even before the COVID-19 happened, loneliness and isolation were common. Now, employees might feel even more isolated and alone because of the shift to flexible work.
Employees who are bottling up their emotions might not perform well, or worse, quit their jobs. This is why human resources leaders must spot signs of loneliness and deal with negative emotions early on.
But how can HR teams combat workplace loneliness? The solution is simple: promote well-being. Little things like giving spontaneous compliments, such as 'great job' and 'nice teamwork' or a tangible reward can foster workplace happiness.
Recognising employees' individual and collective efforts helps enliven their competitive spirits. When workers feel appreciated, they're likely to stay happy and motivated at work.
3. Develop Employee Assistance Programs
Employees deal with both job- and pandemic-related stress. Add up the personal matters that could also trigger anxiety.
Take first-time moms who work from home or have to adopt a hybrid work environment as an example. They juggle many things at once—housework, childcare, and job duties.
It's imperative for HR departments to help employees overcome such work-life balance challenges. Staying connected with the remote and hybrid staff isn't always the best option. Some employees don't trust HR and others prefer venting out to their close colleagues.
Situations like this call for alternatives like an employee assistance program. Here are a few things covered in the confidential service:
Mental health issues. Employee assistance programs can assist employees experiencing anxiety, depression, and other behavioural issues.

Health and caregiving issues. An EAP can also help employees with their fitness plans and find caregiving services (i.e., daycare facility, nursing home, etc.).

Family services. EAP programs allow workers to seek marriage counselling, family planning, and legal assistance.

Counselling. Some EAPs can offer direct counselling to help employees deal with personal problems.

Financial services. The EAP service can also assist employees with budgeting and financial planning.
4. Explore Different, Creative Ways to Collaborate
Humans are social beings. We live in families, work in teams, crave connections and have a fundamental need to have others around us.
One of the biggest struggles in hybrid and WFH setups is inefficient collaboration. The problem with online platforms (i.e., Zoom, Slack, Skype, etc.) is they don't completely engage employees. Some feel anxious to attend virtual meeting and pressured to turn their cameras on.
Such challenges of flexible work arrangements demand HR professionals to think outside the box. It's about time they explore more creative, collaborative communication to engage the workforce. Here are a few must-try collaboration ideas:
Group people with the same interests. Then, create a private chat room where everyone can talk about it. This idea allows employees to connect with others they haven't worked with before.

For companies with hybrid teams, building a focus room makes sense. Focus rooms let employees work or have a private discussion in peace.

Host ice breaker games during town halls to engage attendees. Examples of icebreakers that employees will enjoy are:
- Choose your favourite. In this game, participants put their coloured dots next to their answers. The host may ask some participants the reason or story behind their choices.
- Tour guide. The host will ask employees randomly to give a quick tour of their immediate surroundings (i.e., walk through the room, what's on the desk or the view outside the window, etc.).
- 18 & under. Participants will share interesting stories or accomplishments they had before they turned 18.
The Bottom Line
The remote and hybrid work environments offer companies wide-ranging benefits–from steady business operations to cost-savings, and employee health and safety.
However, these flexible work models aren't exempt from workforce challenges. They can create dull, disconnected and unengaged employees. But with proper planning and resources, HR leaders can turn the tables in no time.
At CGP, we have a comprehensive line of HR solutions that meet the needs of companies with distributed teams, including talent search, executive search, and contracting. Learn more about how we can help you bring great talents together across Asia at www.cgpo2o.sg/our-services.