Back to Blogs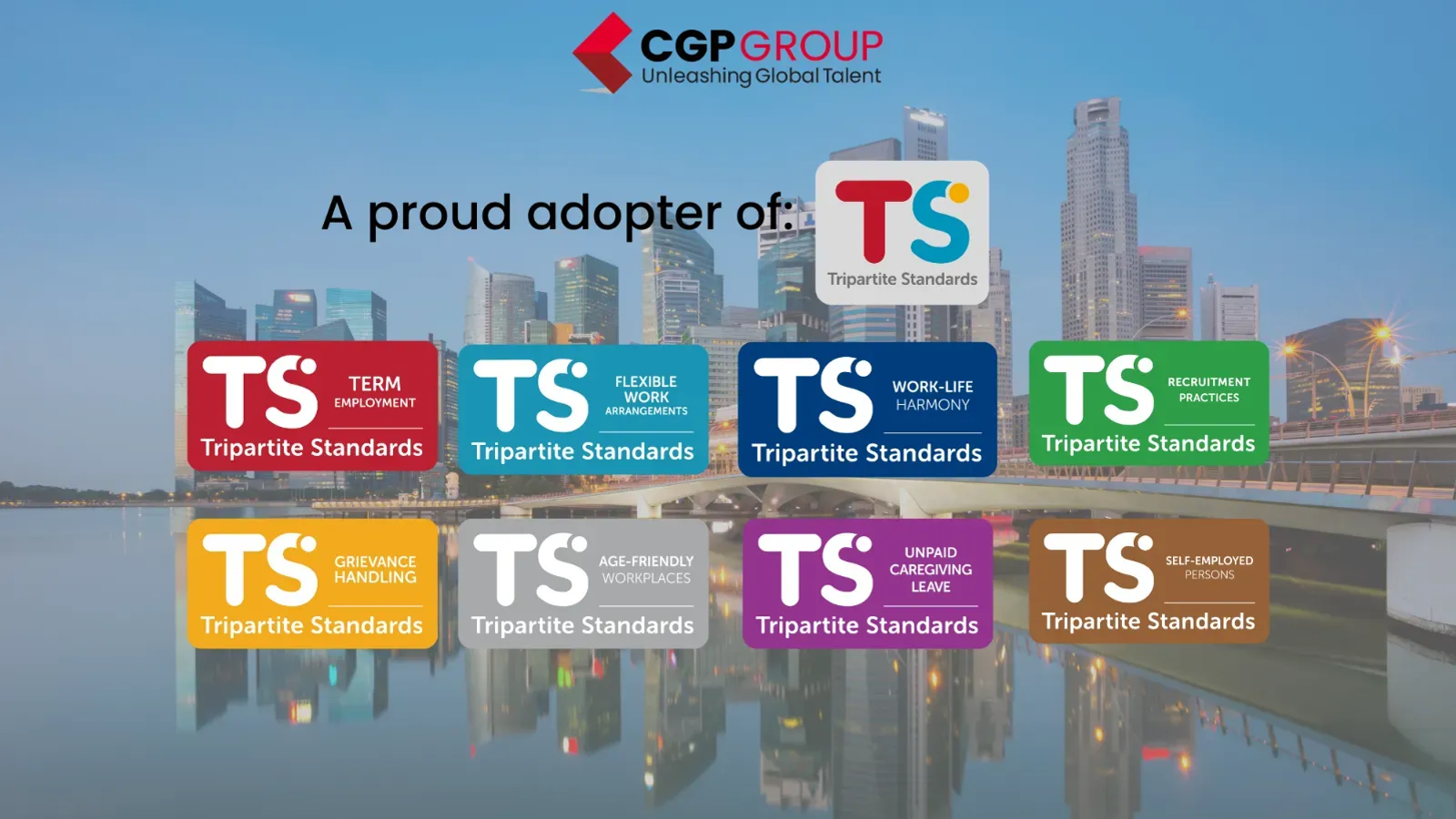 Enhancing Company Ability and Potential to Pool and Retain Talent
​
CGP Singapore (hereafter, "CGP" or "The Company") is proud adopter of the Tripartite Standards on the following 8 standards:
Recruitment Practices

Age-Friendly Workplace Practices

Unpaid Leave for Unexpected Care Needs

Employment of Term-Contract Employees

Flexible Work Arrangements

Grievance Handling

Contracting with Self-employed persons

Work-life Harmony
The achievement in the adoption of these Tripartite Standards benchmarked our strong commitment to foster a conducive, progressive and healthy workplace for our staff, in addition to our high standards of staff training and development.
What do these standards mean?
The Tripartite Standards is a new initiative that was jointly developed by the Ministry of Manpower, National Trades Union Congress and the Singapore National Employers Federation that identifies and recognises employers who have implemented fair and progressive employment practices.
Each Tripartite Standard comprises a set of verifiable, actionable employment practices in a specific area of employment which employers can publicly commit to adopt and implement at their workplaces.
These standards help us showcase our strengths and establish our presence to:
Be recognised as an employer of choice.

Be recognised for your progressive employment practices.

Motivate your employees.

Enhance our ability and potential to pool and retain talent
Building a better workplace for you
By adopting the Tripartite Standards, we are committed towards building a better workplace and work environment for our staff, thus helping our employees to achieve good work-life balance and a fulfilling career. We will continue to ensure that our staff is treated fairly and with respect, and we will do our best to support them to achieve their full potential.
Tripartite Standard on Recruitment Practices (RP)
We assess and select job applicants through merit-based and inclusive hiring practices. This is especially important in a global and diverse workforce environment.
Tripartite Standard on Flexible Work Arrangements
We help employees better manage work and personal needs by offering Flexible Work Arrangements.
Tripartite Standard on Age-Friendly Workplace Practices
We value our older employees and support them with training and workplace health programmes.
Tripartite Standard on Unpaid Leave for Unexpected Care Needs
We help our employees to manage unexpected situations with leave for caregiving needs.
Tripartite Standard on Employment of Term-Contract Employees
We offer term contract employees the same benefits (leave entitlements, notice period, and training) as our full-time employees.
Tripartite Standard on Grievance Handling
We foster a more harmonious workplace with proper procedures to manage grievances.
Tripartite Standard on Contracting with Self-Employed Persons
We foster a stronger working relationships with self-employed persons by promoting progressive employment practices for service contracts
Tripartite Standard on Work-Life Harmony
We establish a work-life strategy to include flexible work arrangements, leave schemes, and employee support schemes to support our employees to effectively manage responsibilities and aspirations in the spheres of work and personal life.
​The Tripartite Standards initiative has reshaped the employment landscape in Singapore where it constitutes a positive step forward to develop a holistic framework for employment practices in Singapore. To ensure, CGP upholds its promise to promote inclusivity, agility, sustainability, and fairness in the workplace so our employees can realize their full potential, we are constantly reviewing our existing practices to check if we meet the specifications of the Tripartite Standards.
Visit tafep.sg to learn more about the Tripartite Standards.